Kindergarten 3 : The whale's tale
This period, the theme of plastic pollution was introduced to the students of kindergarten 3. New terms related to sea animals were taught to the students. 
We watched a short movie, called the whale's tale, in which a boy notices plastic in his fishing net. We followed the net as it fell deep into the ocean and got stuck on a whale. This whale sees the effects of water pollution and does his part to clean up the ocean. But he cannot do it alone and gets help from everyone in order to succeed….
This movie helped us to establish that the biggest problem with unwanted plastic is the pollution!!!
Plastic ends up in our oceans and seas and harms the fish, animals and birds. 
Plastic is everywhere even in our lunch boxes!! Indeed, we counted how many plastic items we had in our lunchboxes and we decided to find ways to reduce the amount we throw away….
For instance, instead of using lots of water bottles and throwing them away, we should buy a reusable water bottle. Instead of using thin plastic bags and throwing them away, we should buy a bag for life and keep using it. Therefore, instead of throwing plastic away, we can recycle it in the proper places.
And finally, we stated that we can all help to clean up the planet by making small changes. We can make a difference just by making different choices…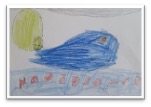 Let's all work together to make the earth a healthier and cleaner place for everyone!